Alexandria Hidden Gems
Alexandria Real Estate
is near many unique locations and exciting places to explore. From tucked-away restaurants and speakeasies to fascinating museums, Alexandria has it all. Visit these notable hidden gems to experience Alexandria, Virginia's enchanting, historical magic!
A walk through history
Located just seven miles outside the nation's capital, Alexandria is a historic town loaded with hidden gems and unique experiences. While the land was settled in the late 1600s, Alexandria has a deep history dating back 3,000-10,000 years to the
Algonquin-speaking tribes
that occupied the area. Over the last few hundred years, Alexandria has seen numerous battles from the Revolutionary War through the Civil War, experienced several population booms, started a world-changing
library system
, lived through a turbulent civil rights movement, and blossomed into an eco-city in the mid-2000s.
Today, Alexandria is a bustling city of over 160,000 people of diverse backgrounds who contribute to the overall quality of life in the city — it's one of the best independent cities to live in the United States. Rich in history and culture, Alexandria is its own walking history museum just waiting to be explored.

The Stabler-Leadbeater Apothecary Museum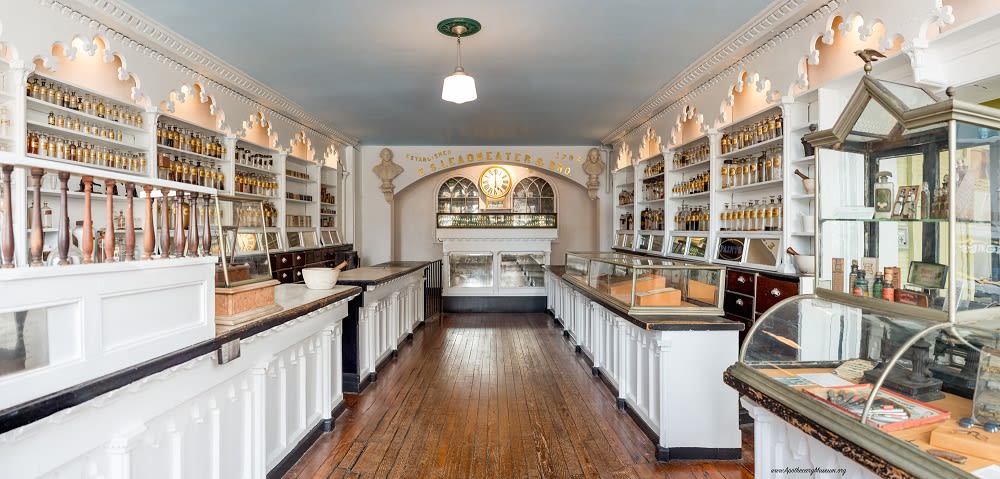 With an enormous collection of herbs, hand-blown glass, and medical equipment from the last 150 years, the
Stabler-Leadbeater Apothecary Museum
is an incredible testament to the technologies of modern medicine. Browsing the archives of this museum transports guests to a very different time in history when modern medicine was just out of reach.
One of the oldest continuously run family businesses from 1792 to 1933, the historic Apothecary has been preserved in time and opens the door to pharmaceutical history. Until the 1930s, a doctor's note was unnecessary for those seeking medications — and the museum has dozens of letters, invoices, account books, and ledgers from when the apothecary was still in business. (Receipts include pharmaceuticals sold to famous customers like Martha Washington and Nelly Custis, George Washington's adopted daughter!)
After the original shop closed in 1933, it re-opened as a museum in 1939, and
everything
was left as it was by the end of the decade. Original bottles, medications, and instruments are displayed, and the museum features an
upstairs workshop
to discover. A great institution of medical history, the Stabler-Leadbeater Apothecary Museum was named a National Historic Landmark, and it's a can't-miss destination for those interested in medical history, natural remedies, and one of the most unique family businesses in Alexandria's history.

The Watson Reading Room
Many people visit the Alexandria Black History Museum each year, but did you know there was an additional research room open to the public right next door?
The Watson Reading Room
is a non-circulating research repository focused on African American history and culture. The collection features over 3,000 documents, from books to AV materials documenting African American history and oral traditions. Patrons are welcome to browse the collection and meet with experts by appointment only.
The history of the Reading Room dates back to 1874 when Laura Watson and her sons established the Sunnyside community with funds entrusted to her family by her late husband, Charles. The community flourished as an African American housing development through the late 1800s to the early '90s, when residents used funds from the Development's Ownership Assistance Program to pay for the construction of the Watson Reading Room. Not only does the Reading Room include thousands of historical documents celebrating and acknowledging African American history, but the site of the building itself is part of local history: the building on Wythe Street formerly included a church, school, and store during segregation.

Hollensbury Spite House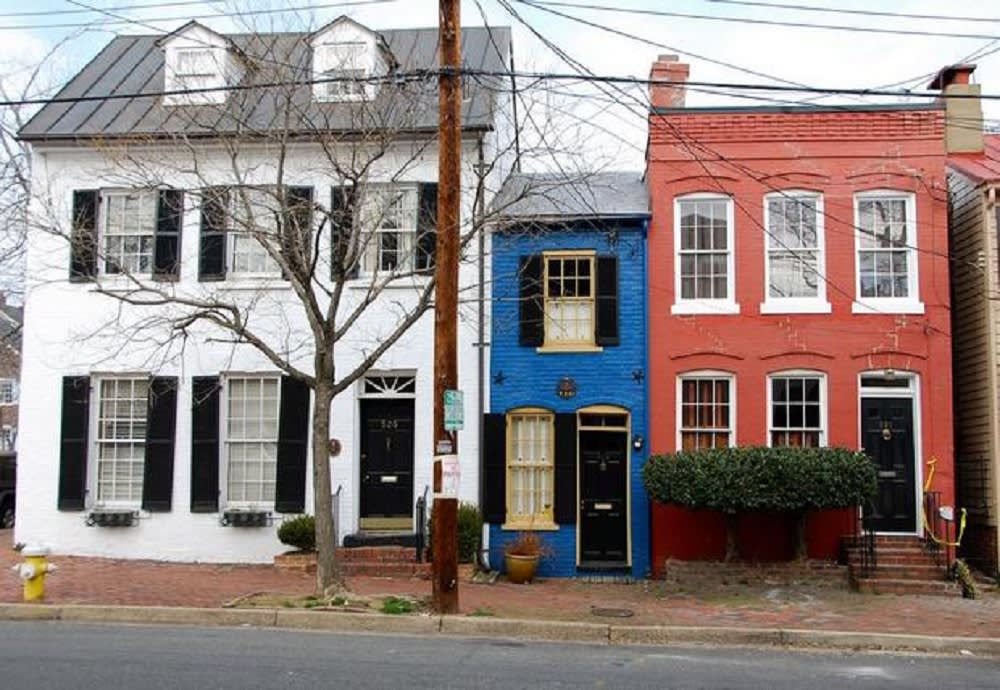 Located at 523 Queen Street is a hidden gem of Alexandria: if it wasn't so whimsical and popular, you'd never know it was there! The
Hollensbury Spite House
is a beloved part of the fabric of Old Town and it certainly has a unique history. This tiny house — the narrowest home in America — is just seven feet wide and built to spite its neighbors back in 1830. John Hollensbury grew tired of horse-drawn carriages and horrendous traffic pockmarking the side of his home, so he built this tiny house to block the alleyway and stop the raucous traffic.
Today, America's narrowest home is barely over 300 square feet and a national treasure. Definitely not up to code when it was built, the local government has grandfathered current regulations by an
ex facto
law to allow occupancy. The Spite House is a privately occupied home for most of the year.
Secret spots
A few years ago, Alexandria was home to a vibrant doughnut shop called Sugar Shack Donuts. Sugar Shack offered sugary doughnuts all day long to young families and those with a serious sweet tooth — until guests realized what hid behind its walls. If you were lucky enough to locate the false wall, you'd discover an intimate speakeasy offering a refined dining experience directly within the playful and colorful atmosphere of Sugar Shack. Today, Sugar Shack was replaced by
Elizabeth's Counter
, a plant-based bakery and lunch cafe offering seasonal menu items and delicious (healthy) doughnuts.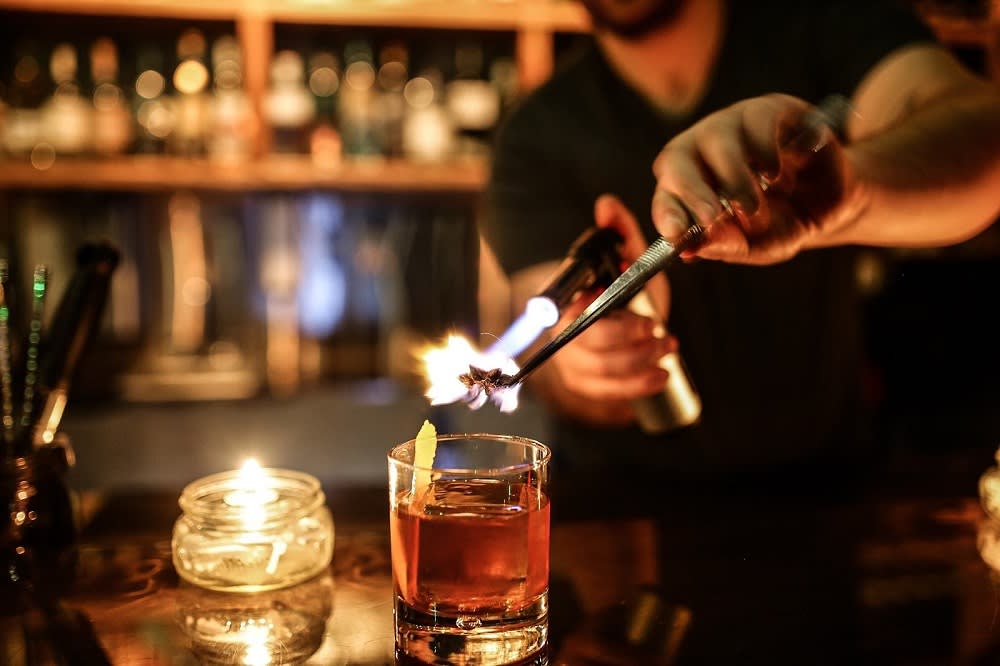 Photo courtesy of Visit Alexandria, Captain Gregory's
Thankfully, you can still find
Captain Gregory's
next door. Sharing the same address at 804 North Henry Street, both the cafe and speakeasy are literally hidden gems of Alexandria and owned by Rob Krupicka, head chef at Elizabeth's Counter and curator of speakeasy cocktails at Captain Gregory's. Aptly named for the man who first put a hole in a doughnut and his mother, Elizabeth, both locations provide a delicious and whimsical experience in the neighborhood of Alexandria.
Natural wonders

Jones Point Park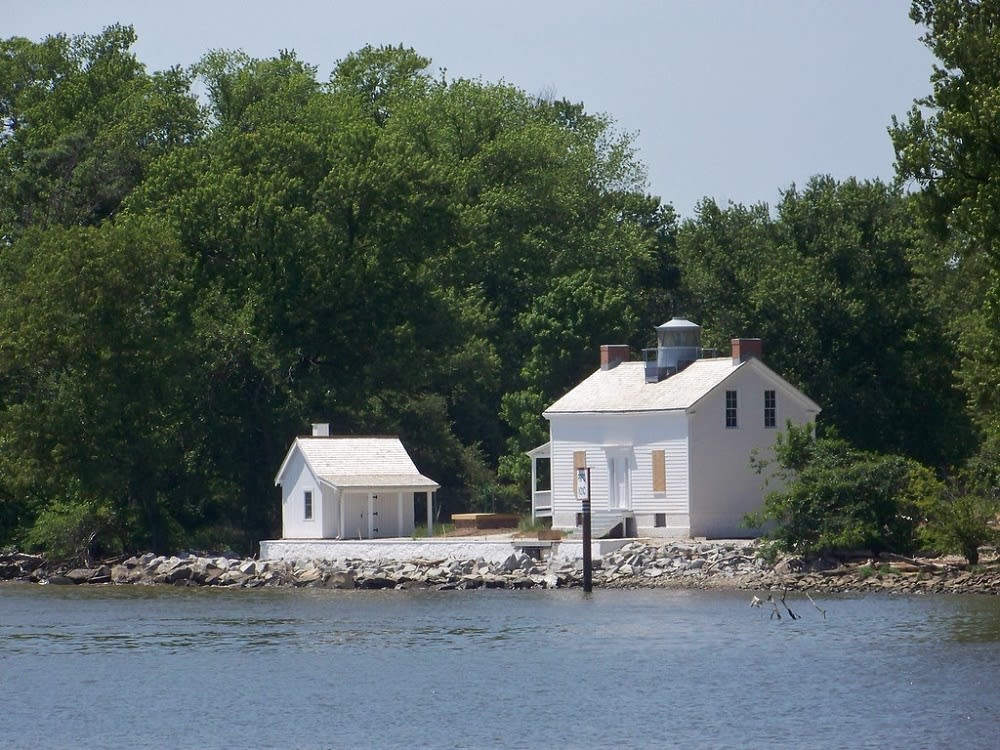 A former shipyard and the original boundary of Washington, DC,
Jones Point Park
sits just south of Old Town along the Potomac River and features beautiful waterfront views and abundant green spaces for relaxing outdoors. The lighthouse was built in 1855 and is the last remaining riverine lighthouse in Virginia. Along the side of the lighthouse building, you'll find a stone pillar enclosed in glass, which was the original boundary marker of Washington, DC in 1791.
The park includes an interpretive trail that highlights the area's history and features a freshwater exhibit showcasing the local wildlife. There are also two fishing piers with excellent locations to cast your line along the water and two playgrounds, basketball courts, and multi-use fields. The park is located in a residential area, so if you are unfamiliar with the neighborhood, you'd never know it was tucked along the Potomac. The Woodrow Wilson Bridge soars above part of the park, creating a "concrete jungle" backdrop — a fantastic destination for photographers.

Huntley Meadows Park
Huntley Meadows Park
protects over 1,500 acres of forest and wetland areas in Alexandria. Home to dozens of birds species throughout the seasons, like the Yellow-billed Cuckoo, prothonotary warbler, red-shouldered hawk, Acadian flycatcher, eastern wood-pewee, and red-headed woodpecker, Huntley Meadows is the top destination for birdwatching in Virginia. Huntley Meadows bursts with hidden gems and enchanting natural wonders along dozens of accessible trails and lookout points scattered throughout the park.
Keep an eye out for all sorts of critters and aviary creatures as you stroll through the park's diverse landscapes and schedule a tour of
historic Huntley
for more information on the 1825 structure found at the entrance to the park.
If you're looking to explore more gems of Alexandria,
contact
John Winstead of the Winstead Group to start your real estate journey. John can walk any property and provide you with all the information you need to make a wise and informed decision. He uses dozens of sales and marketing techniques to ensure the most profitable transaction. Contact the Winstead Group today to find your next dream home in Alexandria!


*Header photo courtesy of Visit Fairfax, Huntley Meadows Park